This page is the brochure for your selected program. You can view the provided information for this program on this page and click on the available buttons for additional options.
Santa Clara Law: Summer Abroad in Munich, Germany
Munich, Germany
(Outgoing Program)
Featured
Program Terms:
Summer

Budget Sheets
Summer

Term

Year

App Deadline

Decision Date

Start Date

End Date

Summer

2017

04/28/2017 **

Rolling Admission

05/29/2017

06/23/2017

NOTE: Internships begin 6/26/2017. Specific ending dates will be arranged with individual employers. A mandatory orientation session will occur on 5/28/17.Please consult your program director before making travel arrangements as not all dates have been finalized. Full tuition payment due April 15, 2017. The non-refundable deposit is $300 per program and an additional $700 for an internship.

** Indicates rolling admission application process. Applicants will be immediately notified of acceptance into this program and be able to complete post-decision materials prior to the term's application deadline.
Language of instruction:
English
Areas of study:
Law
Class Standing:
J.D., LL.M., Other
Summer Abroad in Munich, Germany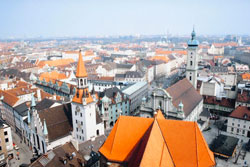 Class: Comparative Intellectual Property Law (5 units)
The focus of this program is on European intellectual property law, with some comparative reference to U.S. intellectual property law. Patent law is explored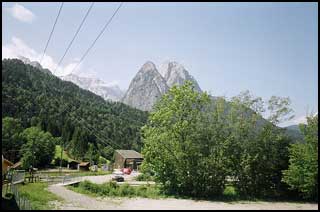 in some depth. However, no expertise or prior background is needed for the course work. The course is designed as an introduction for the generalist as well as those seeking to specialize eventually in intellectual property law. The academic component of the program consists of a single four-week class on European Intellectual property law. Topics to be studied include the European Patent Convention and European Patent Office, the legal structure of the European Union, the Unitary Patent, European Trademark Law (including the Community Trade Mark Directive), European Design Law (including the Community Design Directive), European Copyright and Electronic Commerce Law, European Competition Law, and Geographical Indications of Origin.

Site visits include:
*European Patent Office
*Headquarters of BMW
*A social trip to Herrenchimesee, one of King Ludwig II's palaces, built on an island in a lake southwest of Munich

Students will study the procedures for filing and prosecuting patent applications in the European Patent Office and for perfecting a patent grant into national patents, the relationship between EPO grant procedures and national patenting, and the rights of employed inventors in Germany and elsewhere. Classes generally are held between 9:00am and 1:00pm, Monday – Friday, with some exceptions. A final examination is given at the conclusion of the academic component. All courses and lectures are in English.

For more general information and FAQs on all of our programs, please visit http://law.scu.edu/international/summer-abroad-updates/.
Internships: Munich (3 units)
Internships are available at private intellectual property law firms and some institutions situated in and around Munich. These internship placements require either German language skills or a technical background, but not both. Students gain valuable practical experience by doing legal work under the supervision of a professional in the host country, while integrating into the legal culture of the country, and make invaluable professional contacts. The expectation of an intern is full-time work during the period of the internship (e.g., 40 hours or more a week of supervised legal work); however many students start a part-time internship in Munich concurrently with the course and continue full-time at the conclusion of the course. Santa Clara Law requires a minimum of 50 hours of supervised legal work for each internship unit of credit.

Note: Internship placements are based on a student's technical and language skills, and may not reflect a student's preference.
Fees & Financial Aid
Deposit: A non-refundable deposit of $300 for the class and an additional non-refundable deposit of $700 for an internship (if applicable) is required to secure your spot and it is applied to the tuition charge.

Tuition: The tuition charge is $1,000/unit for J.D. students. LL.M. students should contact us for tuition information.
In example, for 5 units of class the total is $5,000 and an additional $3,000 for an internship (if you select this option), for a total of $8,000.

Financial Aid: US law students are typically eligible for financial aid to cover tuition, airfare, housing, food, local travel costs and school supplies (click here for more information). Financial Aid goes through a student's home institution. A consortium agreement is setup between the home institution and Santa Clara University.
Housing
Students will make their own arrangements for housing. Many students choose to stay at the DERAG Hotel am Deutschen Museum, which has facilities that are both modern and convenient to the Munich city center. Each unit is a fully functional mini-apartment that includes a small kitchenette (with related accessories), private bathroom with shower, a desk, basic linens, weekly housekeeping, small balcony, ample storage space, and easy access to public transportation. There are discount supermarkets and good inexpensive restaurants nearby. Students can contact DERAG directly for pricing.

For students wishing to make their own housing arrangements, there are a number of rental agencies who can assist in securing either a private room or apartment accommodations, like Mr. Lodge
or a roommate placement agency. Additional options include:

Pandion Boarding House

,

Sunnyside Apartments

,

Citadines,

AirBnB

,

and 9Flats. Please note that Santa Clara University does not guarantee or endorse the quality of these agencies; this information is provided solely as a convenience to our students.

Santa Clara University does not endorse any housing provider or have any relationship with any housing provider and students should thoroughly research their housing options.
Exploring the Area
In addition to the classroom experience, our students will have an opportunity to witness an oral proceeding at the European Patent Office. Students also will visit the international headquarters of Bayerische Motoren Werke (BMW), which includes a lecture given by a member of the BMW legal department as well as a tour through the on-site car manufacturing facilities. Finally, we provide our students with an opportunity to gain a perspective on the rich cultural history of Bavaria by visiting one of the beautiful castles located at a nearby lake, including a tour of the castle and dinner at a restaurant on a nearby island that dates back five centuries.
Travel Information
About Munich: Munich, situated on the Isar River near the Alps, is home to a major university, the University of Munich. Munich is a focal point of both German and European intellectual property law. The Max Planck Institute for Foreign and International Patent, Copyright and Competition Law is located in Munich, as are the European Patent Office, the German Patent Office, and the German Patent Court. A large number of high-technology companies are located in or near Munich.

Besides all the opportunities Munich has to offer for those studying intellectual property law, it is a fascinating city that will charm you. Although as lively as any other metropolitan city, many Germans refer to Munich as a big village; it has a very intimate feel to it when you are there. Das ist sehr Gemütlich!!

Munich is the capital of Bavaria (Bayern), Germany's largest federal state. When most people conjure images of Germany, they imagine Bavaria, which is the land of beer halls and lederhosen. Bavarians are proud. Indeed, the residents of the area think of themselves as Bavarians first and Germans second.

Munich is conveniently situated for weekend travel to other cities including Paris, or Prague. Besides its Bier Gartens, Munich offers incredible museums, including the Deutsches Museum, one of the world's largest science and technology museums (you literally need a whole day or more to go through it). Munich is a bicycle lover's town. Almost every road has a bike lane, and automobile drivers strictly adhere to bicycle rider laws, making it very safe. One can get a used bike for about 50 Euros (about $60). Munich also has an excellent public transportation system; a weekly pass for the city center costs about 14 Euros.

Dress Code: The standard dress code in the business setting is typically a bit more formal in Germany than in the U.S. Therefore, students who plan on participating in our internship program should bring at least a "business casual" wardrobe. Also, students should bring one set of clothes appropriate for the annual Santa Clara University semi-formal reception, and also for the other more formal outings, including our trip to BMW and the European Patent Office. Semi-formal means that men should bring a jacket and tie; women should bring a suit and/or cocktail dress. Other than for the above occasions, dress is casual for the academic portion of this program.

Cell Phones: If you are interested in having a mobile phone during your stay in Germany, and already own a "tri- band"/GSM phone, you may be able to buy a pre-paid phone card to directly insert into your handset. Otherwise, you can buy a phone preloaded with a prepaid chip and simply reload your phone when the money runs out on the chip. You can go to any T-Mobile or Vodaphone shop located throughout Munich for the phones/chips. See: http://www.prepaidgsm.net for current offers from local mobile phone providers. Recently, the Tchibo shops started offering prepaid phones with NO contract for as little as 35€; you just have to fill out a form with your local address once you arrive in Munich.

Local Maps: A useful online and interactive Munich street map can be found at either http://www.stadtplandienst.de or http://germany.map- vista.com/munich-map.

AXA/ACE Travel Assistance Program Information (all students enrolled in the program are covered)
US State Department Tips for Traveling Abroad
US State Department Travel Safety Information
US Department of State Country Specific Information
US Embassies/Consulates
US Department of State: Passport Services
US Department of State Worldwide Caution
Centers for Disease Control Health Information
Disability Information for Germany
Testimonials
Summer 2016 Student Evaluation, Overall Experience 4.5 (Scale of 1-5, 1=poor, 5=excellent)

"I learned a lot about how the EPO and the patent system actually works beyond what the class lectures taught us. It was real life experience using the concepts. " Jessica Garcia, SCU (2016)

"I had a great time working at Grunecker, I think the experience was helpful especially because we had a class learning all the European laws and at Grunecker I was able to put what I had learned to use. The internship also helped me learn how the EPO defines the laws and what the EPO expects in terms of what is patentable." Ani Martirosian, SCU (2015)

"[The internship] gave me a good idea of what IP lawyers do at a firm, especially non-patent IP lawyers." Nick, SCU (2013)

"This has been the best overall abroad experience I've ever had, I will definitely be recommending the program to other students." Nathaniel T, SCU (2012)

"The Munich program provided me with valuable experience that will significantly contribute to my legal career. The internship has given me an advantage in the competitive IP law job market. It immediately distinguishes me as an individual who is not only knowledgeable about IP law, bit knows what legal path she wants to pursue." Kathryn Laipply, SCU (2012)

"The best. Highly recommended." [Anonymous] SCU (2011)

"Overall I enjoyed the study abroad very much. It has a good mix of lots of information and fun." Britten Sessions, SCU (2009)

"SCU's Munich program was exactly what I wanted for my summer." Kara Brotman, SCU (2005)

"I highly recommend this program. It has outstanding instructors, great internship opportunities, and affords an opportunity to study with law students from all over the United States. Also being in Munich gives you a centralized location to explore Europe on your own . . ." Brian Boyle, SCU (2005)
Contact Us
Munich Program Director:
Professor Tyler Ochoa
The Center for Global Law and Policy: cglp@scu.edu
Enrollment is limited to a maximum of 30 students