This page is the brochure for your selected program. You can view the provided information for this program on this page and click on the available buttons for additional options.
Santa Clara Law: Summer Abroad in Singapore
Singapore, Singapore
(Outgoing Program)
Featured
There are currently no active application cycles for this program.
Language of instruction:
English
Areas of study:
Law
Class Standing:
J.D., LL.M., Other
Summer Abroad in Singapore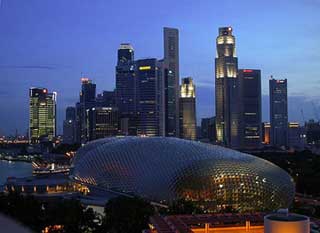 Classes | Internships | Fees & Financial Aid | Housing | Exploring The Area | Travel Information | Testimonials | Contact Us
Mix & Match: Students may be placed in internships with top law firms, corporations, or non-governmental organizations in Singapore, Cambodia, Vietnam, or India.


Classes: South East Asian Business and Human Rights (4 units)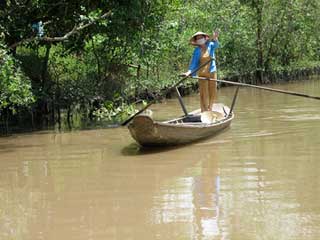 The class in Singapore offers a comprehensive study on Southeast Asian Legal Systems. Students will initially engage in a comparative study of legal systems and traditions of the various nations within Southeast Asia such as Singapore, Malaysia, Indonesia, and Vietnam. Students are introduced to Sharia Law during this segment of this course. The course then shifts focus to business and tax issues, and finally covers human rights law in the region. The faculty are drawn from local law schools in Singapore. These law faculty members are particularly renowned in international business and intellectual property. Classes are mostly held in the mornings and afternoons, with occasional afternoon site visits. The final exam is held on the last day of class and is an in-class 3 hour written exam.

This program utilizes the facilities at Singapore Management University. SMU is gracious enough to have offered in the past free access to the pool and gym. Additionally, the campus is home to is a large economical food court available for students to use, with a book store, ATM machines, and convenience stores as well.

For more general information and FAQs on all of our programs, please visit http://law.scu.edu/international/summer-abroad-updates/.
Internships: Singapore, Cambodia, Vietnam & India (4-5 units)
Whether working with the United Nations or other international bodies, or at renowned international law firms, our internships offer an unsurpassed experiential opportunity. Internships in Singapore are with incredibly well-respected, multi-national firms. Students gain practical experience by doing legal work under the supervision of a legal professional in the host country, while receiving invaluable integration into the legal culture of the country and make invaluable professional contacts. The expectation of an intern is full-time work from the period of the internship (e.g., 40 hours or more a week of supervised legal work). Santa Clara Law requires a minimum of 50 hours of supervised legal work for each internship unit of credit.

Students wishing to intern in law firms in Singapore: Please note that, in order to secure your placement in the multinational and world-renowned law firms with which we have worked, the internship application deadline is particularly important. Owing to our longstanding relationship with these firms, we are able to place you alongside Singapore law students. This placement process takes place in late February and early March, so compliance with the deadline greatly improves your chances of securing one of these competitive internships.
Fees & Financial Aid
Deposit: A non-refundable deposit of $300 for the class and an additional non-refundable deposit of $700 for the internship (if applicable) is required to secure your spot and it is applied to the tuition charge.

Tuition: The tuition charge is $1000/unit for J.D. students. LL.M. students should contact us for tuition information.
In example, the total is $4,000 for classes and an additional $4,000 for an internship (if you select this option), for a total of $8,000.

Financial Aid: US law students are typically eligible for financial aid to cover tuition, airfare, housing, food, local travel costs and school supplies (click here for more information). Financial Aid goes through a student's home institution. A consortium agreement is setup between the home institution and Santa Clara University.
Housing
Students are responsible for making their own housing arrangements. There are a number of housing options available in Singapore, from hotels and hostels, to serviced apartments. Finding the right housing for a long stay in a foreign city is not easy. This interactive map can help you locate the main hotels in Singapore. For reference purposes, the Orchard Road area tends to be the busy center of town. Here is a map of the university. Rates may be quoted in Singapore $, so make sure you do the appropriate conversion before making a final decision.

Hotels
You may find some good hotel rates through STA Travel or Agoda. Hotel prices range upwards from around US $35 per day. Prices may be quoted in Singapore $$. Beware that reservations may require a non- refundable pre-payment for the entire duration of reservation. Make sure you check the customer reviews before committing to long-term arrangements!

Hostels
Options abound, but make sure this is what you want before you sign up for this. Previous students have recommended the following hostels: Sleepy Sams, Inncrowd Hostel, and Evans Lodge.

Serviced Apartments
Serviced apartments are great since they usually come fully furnished, offer you cooking facilities, and can be shared with one or more students. While many rental services are available, students have used Wilby Central Serviced Apartments in the past.

Santa Clara University does not endorse any housing provider or have any relationship with any housing provider and students should thoroughly research their housing options.
Exploring The Area
Singapore, officially the Republic of Singapore, is an island country off the southern tip of the Malay Peninsula, in the Southeast Asian region of the Asian continent. It is separated from Malaysia by the Straits of Johor to its north, and from Indonesia's Riau Islands by the Singapore Strait to its south. Singapore is the world's fourth leading financial center and a cosmopolitan world city, playing a key role in international trade and finance. The port of Singapore is also amongst the top five busiest ports in the world. Due to its diverse population and immigrant background, Singaporean culture has often been described as a mix of cultures – British, Malay, Chinese, Indian and Peranakan. Foreigners also make up 42% of the population in Singapore and they play an important role in influencing Singaporean culture. Singapore is a major international transportation hub in Asia, positioned on many sea and air trade routes, and students often visit neighboring areas such as Malaysia and Cambodia.
Travel Information
AXA/ACE Travel Assistance Program Information (all students enrolled in the program are covered)
US State Department Tips for Traveling Abroad
US State Department Travel Safety Information
US Department of State Country Specific Information
US Embassies/Consulates
US Department of State: Passport Services
US Department of State Worldwide Caution
Centers for Disease Control Health Information
Disability Information for Singapore
Testimonials
Summer 2016 Student Evaluation: Overall Experience 4.9 (Scale of 1-5, 1=poor, 5=excellent)

"Thank you Santa Clara for a spectacular experience last summer! Without your program, and my internship placement in Cambodia, I'm not entirely sure my life would've turned out the same. I was selected to travel back to Myanmar and Cambodia through the ABA's International Law Section. To participate in this ILEX (International Legal Exchange) Program whose Delegation members have included luminaries such as Justice Scalia in 2010 and Justice Breyer in 2005 is a true honor." Ashlee S., Vermont Law (2013)

"This program exceeded my expectation in many aspects! Great and passionate professors taught interesting topics, many of which are eye-opening. Classmates are from all over the United States, with a lot of pre-law experiences. This discussions in and out of the classroom were fascinating!" Bin S., Santa Clara Law (2012)

"I really enjoyed the diversity of the program and lectures. By the last session, I felt that we had come full-circle to the first few lectures and everything started to make sense. Everything was incorporated and had influence on everything else." Chandler P., UNLV (2012)

"Wonderful experience, combines law with real Singapore culture" [Anonymous] Summer 2011

"I loved this program. The courses were excellent, and it was very well run." -Willa Gelvick, Summer 2009, SCU

"This was an excellent experience." Laura Bahmenezed, Summer 2009, Touro Law School

"My summer abroad program [in Singapore] was great! Going to Vietnam [on an internship] was an awesome experience as well . . . " Nam Nguyen, Loyola Law School (2006)

"Working [at an NGO in Cambodia], I feel I am on the forefront of issues affecting Cambodians today. I have had the opportunity to help prepare for, participate in, and report on protests and organizations organized by my office. The work I am doing on forced evictions and property rights is directly connected to the most pressing legal issues in Cambodia today." Jacqueline Binger, Summer 2006.
Contact Us
Singapore Program Director: Professor Yvonne Ekern
The Center for Global Law and Policy: cglp@scu.edu

Enrollment Limits:
Class: 30
Internships in Singapore: 10
Internships in Cambodia: 2 -4
Internships in Vietnam: 2 – 4
Internships in India: 2 – 4